HOW TO ACHIEVE A FLUENT AND EFFICIENT COLLABORATION IN THE 22STARS MANAGEMENT TEAM?
22Stars Foundation empowers families in Uganda to rise above poverty
The 22Stars Foundation is on a mission to empower families in Uganda to rise above poverty through local leadership, education and entrepreneurship. The believe is that economic development and education, along with fostering a strong sense of community, are key to help communities break free of poverty. The heart of the team comprises three co-founders, and the whole team is a mix of western people and Ugandans.
When we met in 2021, the number of beneficiaries of the foundation is growing and same for the number of programs and the number of donors. To sustain this growth, a stable and mature management team is key. Recently, recurring internal communication- and efficiency challenges have arisen and some role changes have taken place amongst the management team members. The need to increase efficiency in the processes is growing. Challenges in the collaboration is the difference in dealing with time management, content and process sharing. How to find a jointly accepted way of collaboration?
"An organisation, no matter how well designed, is only as good as the people who live and work in it"
<Dee Hock>
Responding to the expressed need for seamless collaboration within the management team, we developed the "Collaboration Efficiency" program, launched in June 2021 and running through June 2022. This initiative is tailored precisely to address the team's unique purpose and challenges. A dedicated effort, enriched by an impartial external perspective, has been carefully crafted to research and analyze the current approach and individual preferences. This inclusive process involves active participation in daily activities, team meetings, and personalized one-on-one engagements, ensuring a bespoke and impactful transformation in our collaborative endeavors.
Where we started the program by catching up on the purpose of the organization and where we jointly chose and embraced the values, we have built an environment of trust together and acknowledgement of capacity space to grow in: An environment in which the team feels safe to learn and to express ourselves, together with specific topics we identified as essential for efficient and professional collaboration for a growing organisation.
To elevate collaboration to the next level, the Capacity Building program was implemented from July 2022 to July 2023. For sustainable capacity building we used the environment of trust to deepen the growth path in the areas the team identified as the most needy topics. Throughout this initiative, the 22StarsFoundation team has deepened the interrelated elements on the topics of importance to learn about the capacity and their own stretch. A one-year program where online and physical contact alternate in three blocks. This year of routine, repetition will bring more deepened understanding, trustful acting and initiative.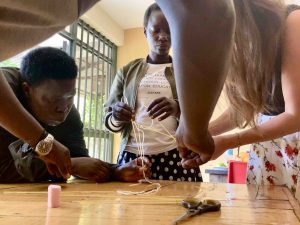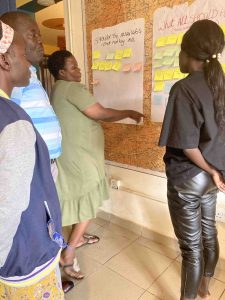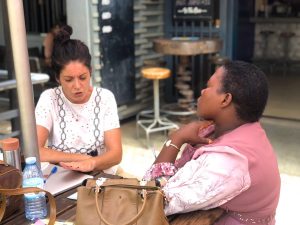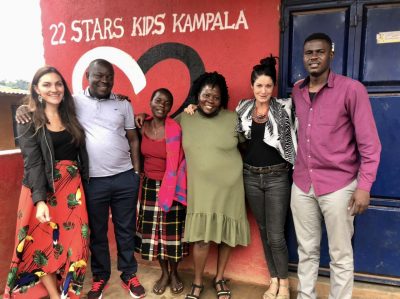 From left to right: Stella, David, Susan, Aidah, Joëlle, Nicholas
Hi and welcome to 22Stars,
The 22STARS Foundation originated as the social business 22STARS Jewellery in 2013. While a product-based model is a great way to help people out of poverty by making sure they become more self-sustainable, the sales are also insecure. This is why we switched to a more holistic model that provides the communities in Uganda with a more stable and consistent income, allowing us to focus on Education, Entrepreneurship, and Local Leadership.
We have come this far that we can call ourselves a professional Non-Profit. Our projects use an integrated approach to community development – focusing on the development of economic, social, natural, human, and cultural capital. Empowered Ugandan people to preserve their culture, environment, and society is a proven result that makes us vey proud.
And this is where we are today: a growing foundation and growing number of beneficiaries in Uganda. Ready for efficiency!